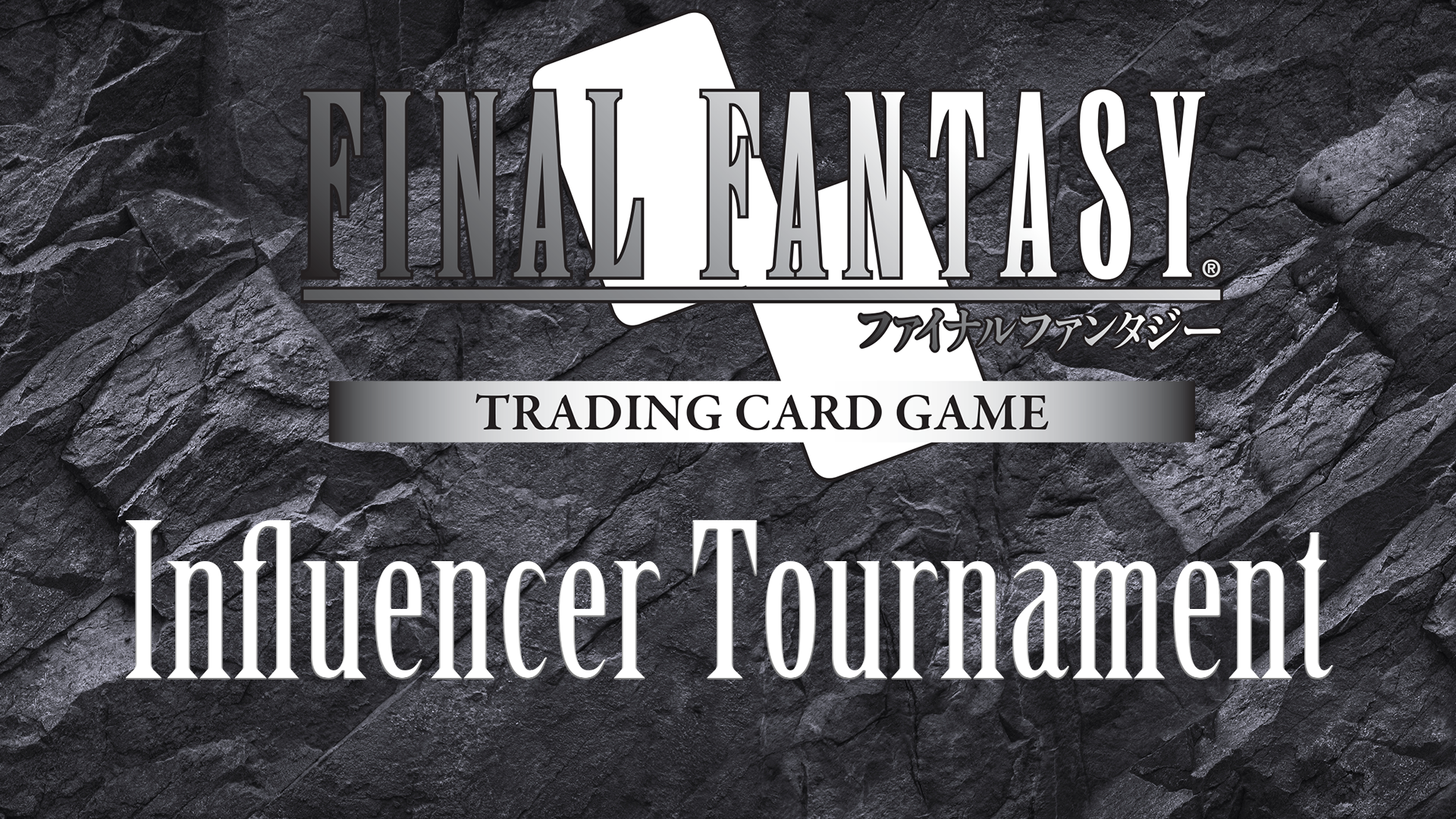 Hey everyone,
As you've probably noticed, we have not continued with the FFTCG Influencer Cup videos, and we would like to apologize for this.
Unfortunately, we experienced some issues with the videos, and while we have been searching for a solution for quite a long time, it has gotten to the point that the tournament, and the decks played in it, are quite outdated for the current meta. Instead of trying to fix the technical issues for a tournament well beyond finished, we would rather look ahead to future projects.
Nevertheless, while not everyone was able to see it, there WAS a winning team for this tournament. As previously announced, the winners of the Influencer Cup will still get their Promo card into the game and we would like to give you an overview about the results of the matches.
As a recap, each team had to use the promo card they want in their decks each round. Let's take a look at the round structure and teams.
The Rounds
Round 1: Standard Constructed
Round 2: L3 Constructed
Round 3: Highlander (only one of each card per deck)
The Teams
Team Allies - John Schreiner and Nicolas Larrouy
(Promo: Pandemonium 11-055R)

Team Avalanche - Michitarou Yabuuchi and Joe Leszczynski
(Promo: Barret 11-074H)

Team Basket Case - Christopher Mattiske and Sascha Korbel
(Promo: Belias 9-017C)

Team Coollin - Alexander Hancox and Collin Rupert
(Promo: Nyx 11-097H)
I'm sure it's clear that these are some stacked teams with players well known in the FFTCG community around the world! Of course, while these seasoned players gave it their all, it all came to a showdown of Team Coolin vs Team Basket Case to decide which character would come out on top: the horned demon Belias, or the hero of Lucis' Kingsglaive?
Results
| | | | | |
| --- | --- | --- | --- | --- |
| Team Basket Case | John | VS | Chris | 0:1 |
| VS Team Allies | Nicolas | VS | Sascha | 0:1 |
| | | | | |
| Team Coollin | Alex | VS | Michitarou | 0:1 |
| VS Team Avalanche | Collin | VS | Joe | 0:1 |
| | | | | |
| Team Avalanche | Joe | VS | Sascha | 0:1 |
| VS Team Basket Case | Michitarou | VS | Chris | 1:0 |
| | Game 3 | | | 0:1 |
| | | | | |
| Team Coollin | Collin | VS | John | 1:0 |
| VS Team Allies | Alex | VS | Nicolas | 1:0 |
| | | | | |
| Team Allies | Nicolas | VS | Joe | 0:1 |
| VS Team Avalance | John | VS | Michitarou | 1:0 |
| | Game 3 | | | 1:0 |
| | | | | |
| Team Basket Case | Sascha | VS | Collin | 1:0 |
| VS Team Coollin | Chris | VS | Alex | 0:1 |
| | Game 3 | | | 1:0 |
| | | | | |
| The Grand Final | Team | | Team | 0:1 |
| -Best of Five- | Coollin | VS | Basket Case | 0:1 |
| | | | | 0:1 |
We also spoke with Alex from Team Coollin and Sascha from Team Basket Case about the Tournament and their general experience with FFTCG:
Tim: Hey Sascha! First of all, we want to know a little bit about you. How long are you actually playing FFTCG?
Sascha: Hello everyone! I've started playing shortly after the release of Opus I with my roommate. Tim: So, you have been here for a while already! What is your favourite element in there?
Sascha: I like control decks and having a big CP advantage carrying the game home so in the beginning it has been water but shifted towards Wind in Opus 7 and stayed there.
Tim: And what was your biggest achievement in FFTCG?
Sascha: Get to know so many fantastic people all over the world! Also winning German Nationals in 2018 and get to play in worlds that year has been just amazing!
Tim: I really hope we can see each other on events soon again, but how do you keep yourself engaged during the pandemic?
Sascha: Having weekly webcam tournaments with 12-16 players really helps and keeps me chasing for all the foils and Full Arts!
Tim: Great to hear! Let's talk about the Influencer Tournament that happened a while ago - how was the influencer cup tournament experience?
Sascha: Getting to team up with Chris was the best! My biggest weakness in this game is building decks and getting paired up with the most innovative brain in a tournament which really challenges deckbuilding, was quite lucky! Furthermore, getting the chance to play some of the best players in the world is something I enjoy a lot!
Tim: What's your pro-tip to a new player?
Sascha: Haha I dont see myself as a "Pro-Player" as an experienced tournament player it has been the advice/ coaching/ training of better players and my own commitment/ engagement towards the game which led to the wins I have under my belt.
Tim: Anything else you want to add?
Sascha: Thanks alot for this opportunity SE! Stay cool and please look forward to this new Full Art Promo everyone!
Tim: Alright Alex! Let's get through the same questions.
Alex: I have been playing FFTCG since about two weeks after the game first released in the UK in 2016. Some friends and I picked up some starter decks and booster packs, and after I first played Paine 1-199S to activate three backups and a draw a card I was hooked. My favourite element in the TCG is Wind. I feel like it has been consistently strong since Opus 1 either as a support element or just on its own in a Mono deck. It has always felt very rewarding to build backups and then play cards like Bartz 1-080H effectively for free, as well as having ways to manipulate my opponent's turns with cards like Zidane 3-056H. My biggest achievement(s) in FFTCG are the friends I've made along the way. This game embodies a sense of community like no other TCG on the market which is a big part of the reason many players have kept up with it through the pandemic. I am always very grateful of the opportunities and experiences the game has afforded me, whether it's traveling all over the world or meeting people I'd never normally come into contact with to just hang out and play cards. During the start of the pandemic I had no idea how long we'd be unable to play games in person, so at first it felt like just a case of waiting it out. After a couple of months it seemed clear we'd be in this position for a while, so eventually I began streaming FFTCG content on Twitch, with a mixture of both standard and draft gameplay. Draft especially, using a mixture of the All-Star Draft and our own custom variants, kept a healthy group of us interested during the closing months of Opus 12. I look forward to the format returning to competitive events once the situation allows. The Influencer Cup was an interesting way to allow us to show off some lesser-known formats, as well as compete with other prolific community members that most of us wouldn't ever get to see outside of events like the World Championship. I hope the games were entertaining and informative to watch. My best advice for new players is to join a community operating out of a local games store, as well as make use of the online resources like social media groups in order to familiarise yourself with the card pool and commonplace decks. After that it's a matter of practice and finding something that suits your style of play. Thanks to Square Enix for giving us all the opportunity to compete. Hopefully this is just the start of them working closer with the community and we see similar ideas like the Influencer Cup put forward for when things return to normal, utilising the experiences we have all gained from this first venture.
In this regard:
Congratulations to Alexander Hancox and Collin Rupert from Team Coollin!!!
Nyx 11-097H will become a new Full Art Promo-Card for FFTCG in June!