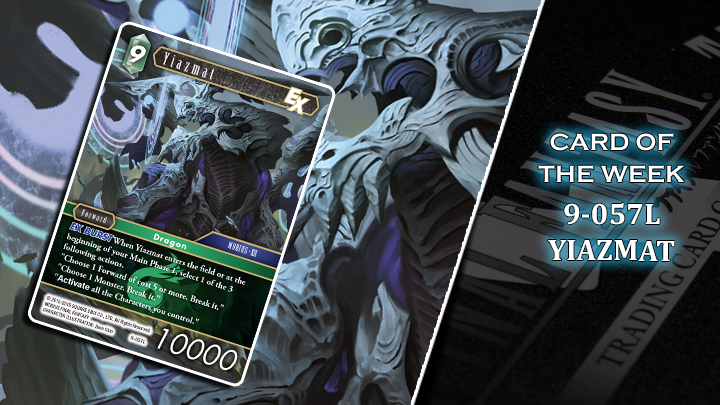 Hello everyone! It's that time of year again. The Opus IX preview is finally starting this week. There are many appealing cards in Opus IX so please take a look at the previews and consider new deck types. Now, let's go ahead and take a look at our first preview. Since there will only be one preview per week, there's no holding back. I'm going to go ahead and introduce this amazing card. So here it is – Yiazmat [9-057L], a wind Legend card!
Yiazmat is the strongest monster that appears in FINAL FANTASY XII – I'm sure many FFXII players fought against Yiazmat in the game. Its attacks are fierce, unleashing destructive strikes one after another, including instant death attacks. Its HP is also irregularly high, making Yiazmat deserving of its "strongest monster" title.
Its strength hasn't lost any steam in the world of FF-TCG either. Its power is a staggering 10,000! Up to Opus VIII, only three other cards have this power value. In other words, this power is only give to a select few. But, it's a given in this game that a high power value doesn't necessarily equate to the card being a useful force. Yes, it's the abilities the card possesses that speaks volumes for its real strength. So let's look at what abilities Yiazmat possesses.
Yiazmat only has one ability – an Auto-Ability with several effect choices. Yes, only one ability, but a powerful one at that! The first two effects read, "Choose 1 Forward of cost 5 or more. Break it" And "Choose 1 Monster. Break it." There is no way these effects can be anything less than powerful. And the third – "Activate all the Characters you control" – can be used in many interesting ways. Furthermore, this ability takes effect not only when the card enters the field, but at the beginning of Main Phase 1 of each turn as well. In other words, as long as Yiazmat does not leave the field, this terrifying ability strikes the opponent on every turn. I think it's safe to say that Yiazmat is true to its title of "strongest monster." The only concern is its high cost at 9, but considering the fact that Nidhogg [6-130L] was commonly used in tournaments despite having the same cost, this is a cost that players will be willing to pay.
Finally, I would like to introduce some cards that have great synergy with Yiazmat. The first two effects are powerful on their own, but the third effect of activating all the Characters will create amazing synergy with Yuri [7-128H]. Yiazmat's ability will go onto the stack at the beginning of Main Phase 1, and if you use Yuri's ability effect in turn, all Characters that were dulled for the cost of Yuri's effect will become active. Then, you can play a different new card, or continue on to use Yuri's effect. Similarly, cards that have some form of effect of dulling multiple Characters, such as Arc [5-052H] and Ultimecia [6-107R], have great synergy with Yiazmat as well.
What did you think? Not only is Yiazmat powerful, but it seems to have the ability to create different combos. Please try using him! OK, until next time. Next week, RB will be in charge of introducing a preview so keep an eye out for it!